Getting your new colleagues up to speed can be a challenging and repetitive task.
Things just fall through the cracks sometimes, and when that happens it takes longer for the new hire to become a fully productive member of the team.
Streamline your onboarding process and ensure that your new team members' first weeks go without a hitch by creating simple checklists and templates in Nuclino.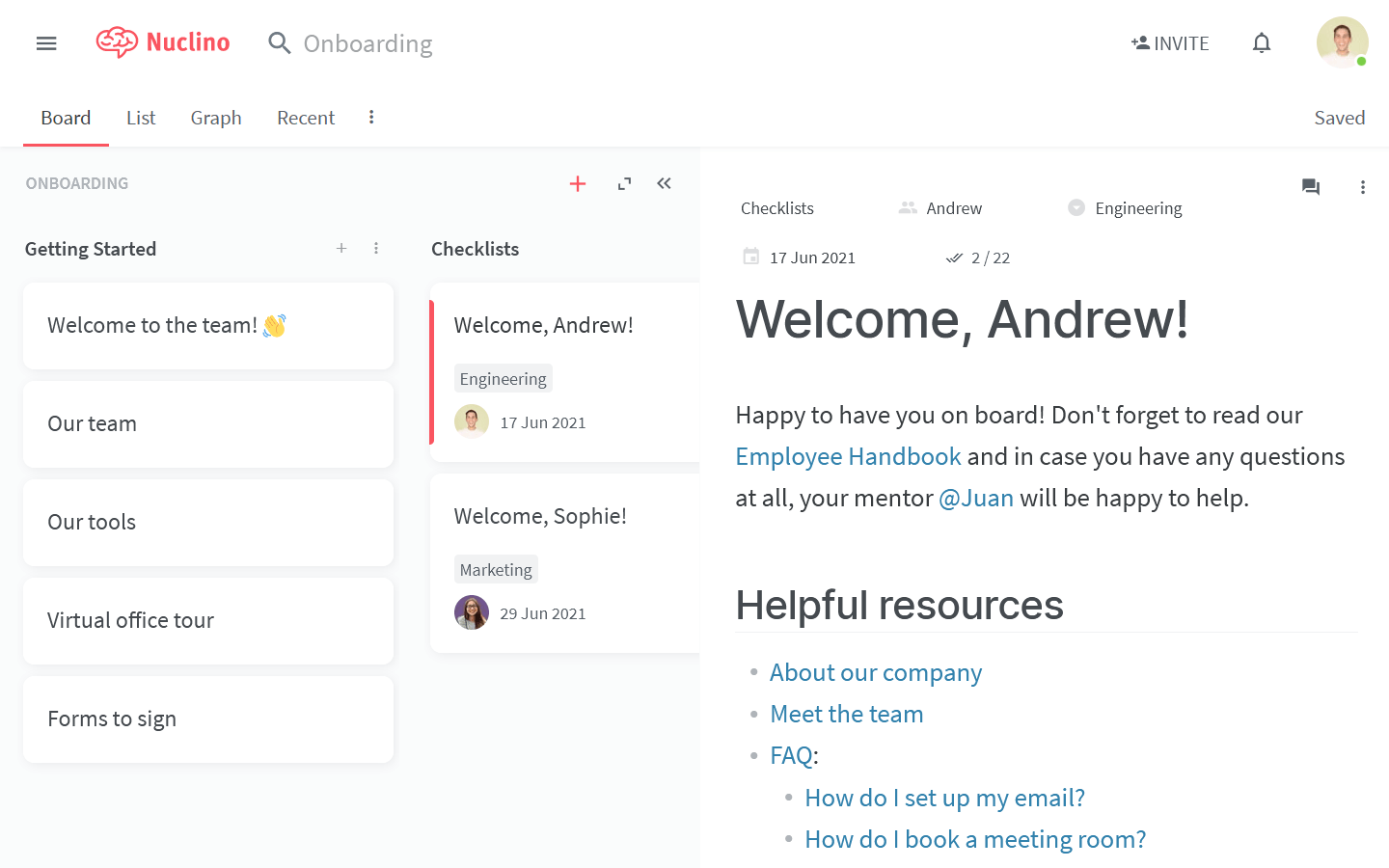 Step 1: Create a workspace
First, let's create a separate workspace for onboarding your new team members.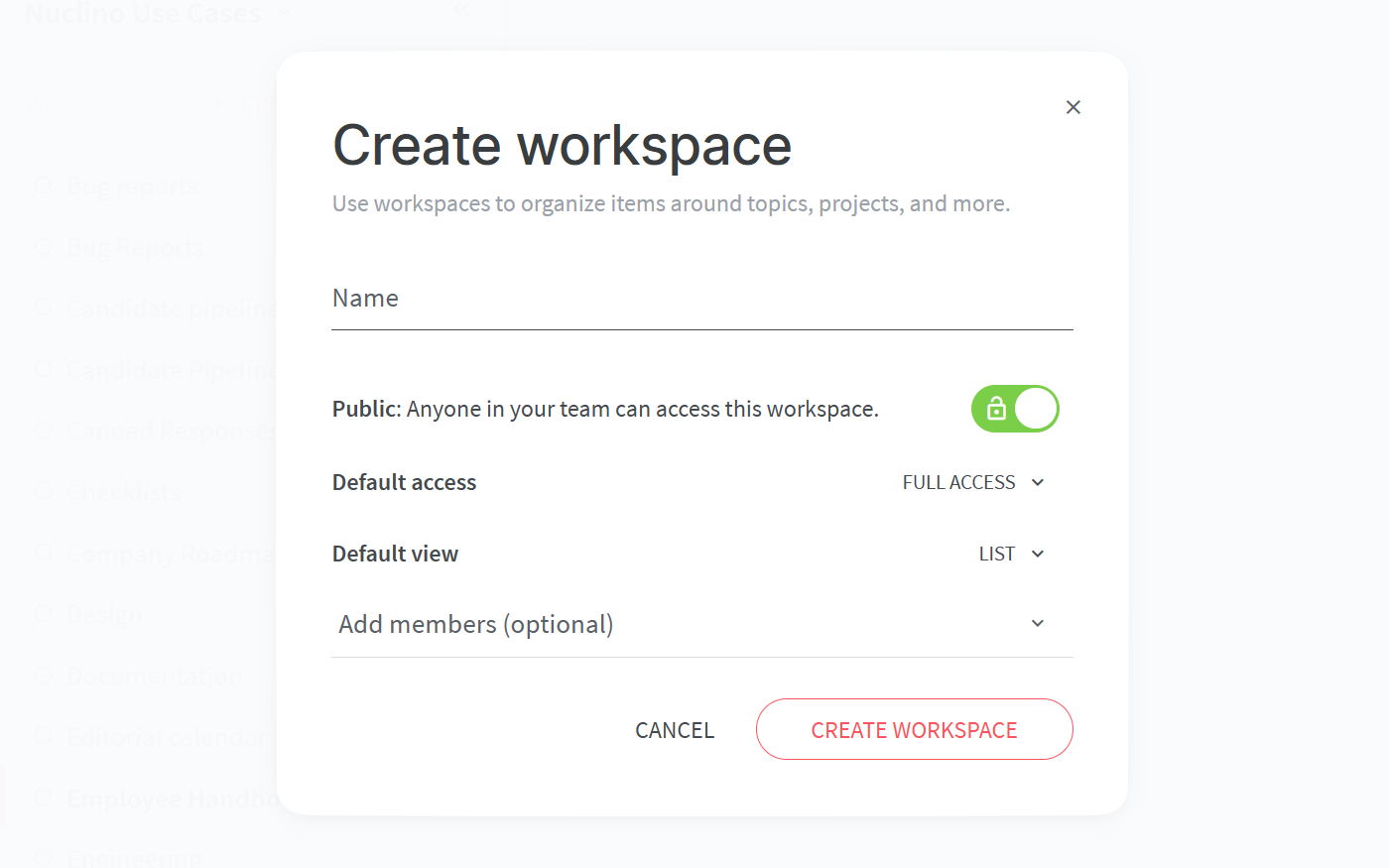 To set up your workspace, you will need to configure:
Privacy.

You can make your workspace public – visible and accessible to your whole team – or private, so that only you and invited members can see it. You can make this workspace private and only add the new employees and their mentors.

Access rights.

Since onboarding is a collaborative process, it would make sense to enable your workspace members to edit the content by default by making the workspace full access. If you want to give certain members comment-only or read-only rights, you can always do so in the workspace settings.
Step 2: Set up the onboarding workflow
Next, customize the board to reflect the different stages of your team's onboarding workflow.
Content in Nuclino is made up of items (board cards) that are grouped in collections (board lists). Create a collections for each topic or stage of the process. You might also want to create a separate collection for the onboarding checklist templates that can be copied and customized for each new hire.
Step 3: Create checklists for essential tasks
Onboarding is usually made up of repetitive tasks – regardless of the role or the team the new hire is joining, there is no way around the pesky paperwork. Create checklists containing all the tasks that need to be completed to successfully onboard the new member and use them as templates.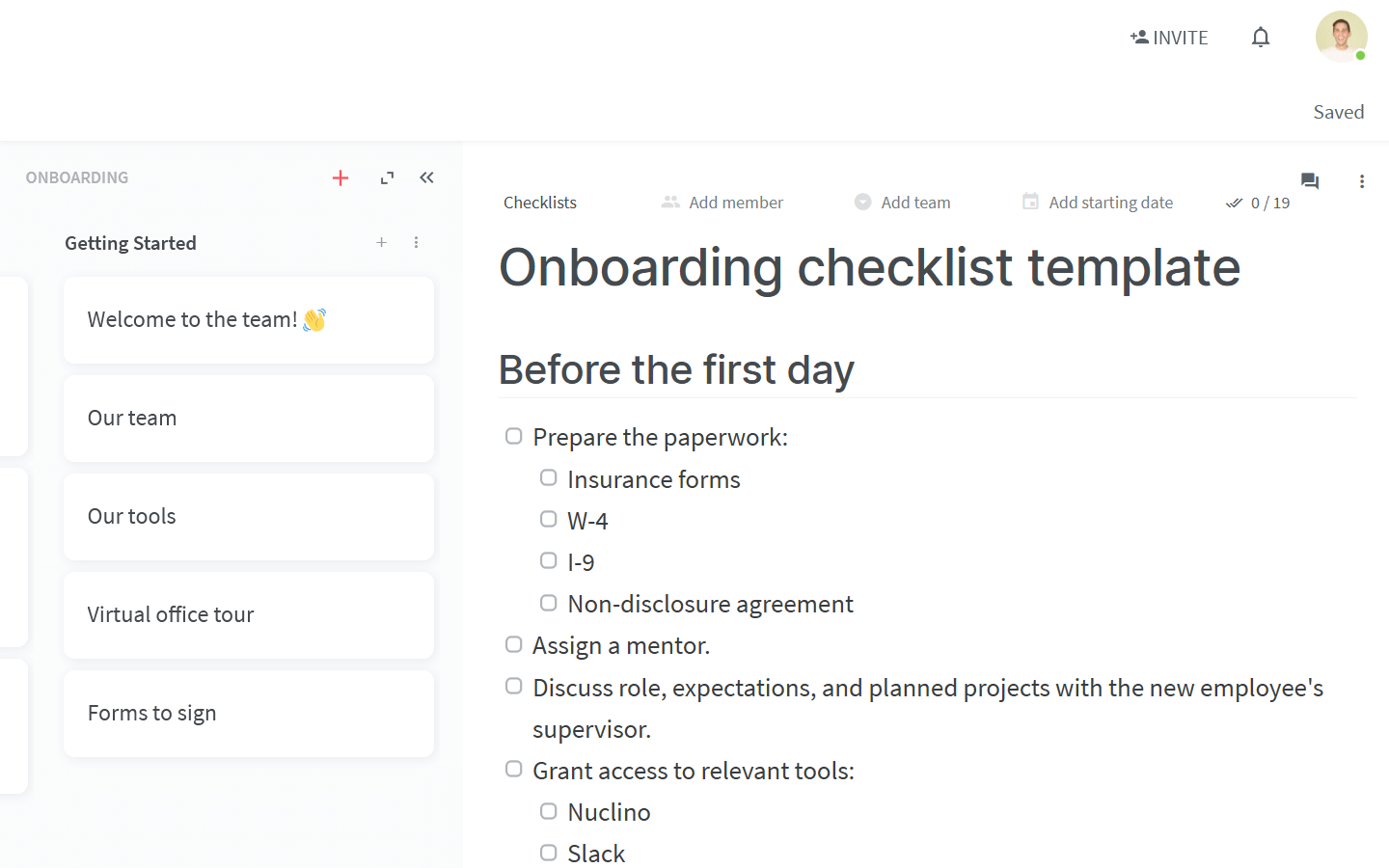 💡 Nuclino Tips:

Internal links in Nuclino work across workspaces! If you want to share articles from other workspaces (e.g. your team knowledge base) with the new team member, add them to the item using internal links – simply type @ and select the articles you want to link.
Step 4: Copy and customize the templates for every new hire
When a new member joins the team, duplicate the relevant onboarding checklist and customize it. @-mention the new employee in the item so that they get an instant notification when you invite them to the workspace.
If the new team member has questions about a specific task in the checklist, they can simply mention their mentor in an inline comment and ask for help. It's great for onboarding remote employees!
After the new hire completes their onboarding tasks, they can move their card to the "Completed" collection and join their team in their regular team workspace.
---
👏 You're all set!
Have questions or looking for more tips? Email us at contact@nuclino.com!