Ever had to skim through multiple docs to track down the meeting notes you need?
In Nuclino, all of your team's meeting notes are in one place so nothing falls through the cracks. And it's not only notes – every note is a collaborative document that can contain tasks, references, links, mentions, comments, embedded media, and more, so you can easily follow up on the next steps without having to move to Slack.
Here's how you can set it up.
Step 1: Create a workspace
If your team has regular meetings, you can set up a separate workspace to better organize the meeting notes.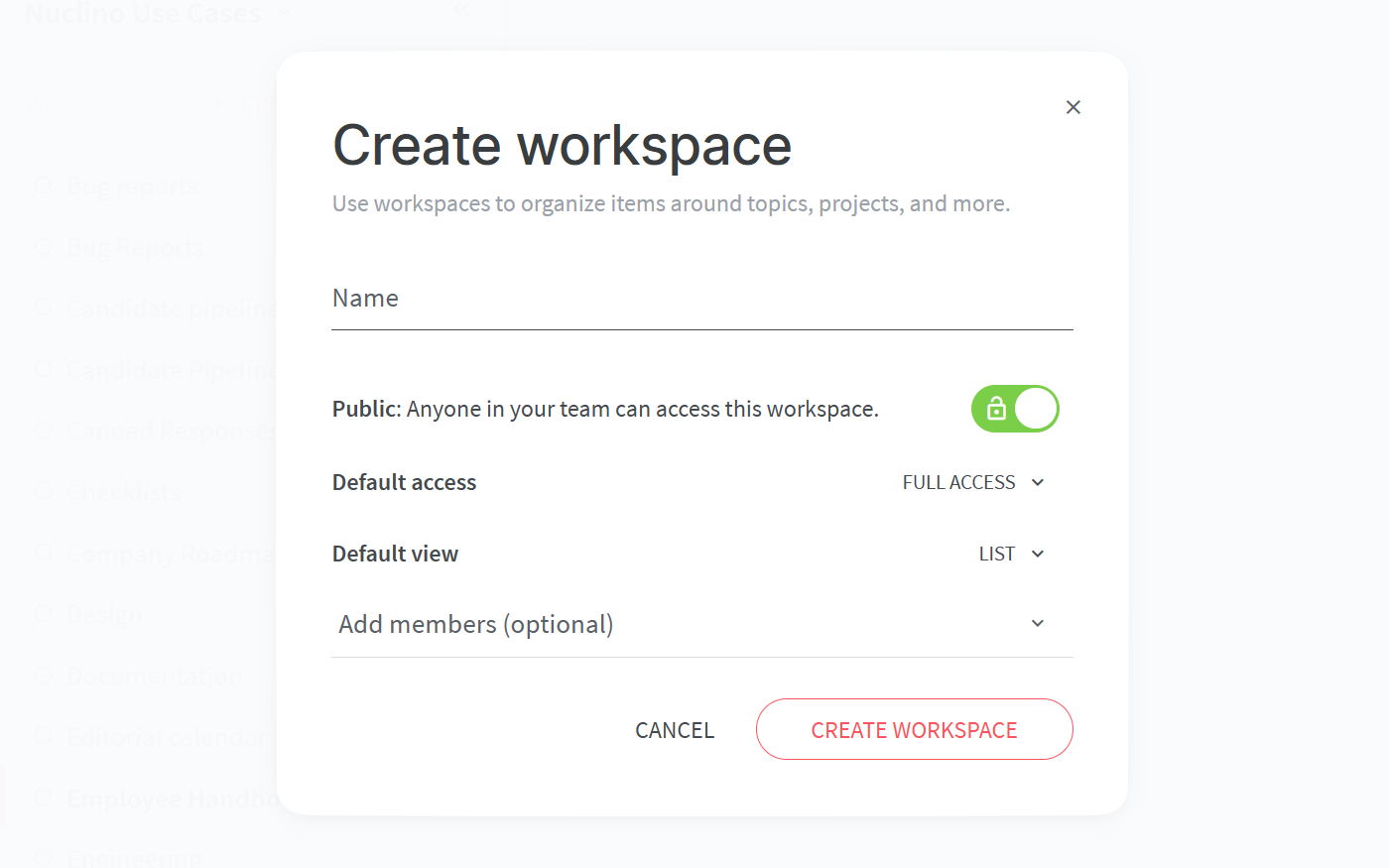 To set up your workspace, you will need to configure:
The default view of your workspace.

You have the choice between the list, board, graph, and recent views. The list view is a simple and compact way to organize your notes and divide them into categories. Don't worry, you can always change it later!

Privacy.

You can make your workspace public – visible and accessible to your whole team – or private, so that only you and invited members can see it. Since meeting notes are meant to be shared with your team, in most cases this workspace should be public.

Access rights.

To make sure the meeting notes are accurate and comprehensive, they need to be taken collaboratively. Make this workspace editable by default so that every meeting attendee can contribute.
Step 2: Set up the structure
Content in Nuclino is made up of items (think of them as notes) that are grouped in clusters (which act as tags or folders). Get started by dividing your meeting notes into categories and creating a cluster for each.
For example:
Quarterly team meetings

All-hands meetings

Team meetings
Every cluster can have sub-clusters, for example, you can add different sub-clusters under "Team meetings" so that each team would have a dedicated space for their meeting notes.
Step 3: Create templates
A great way to streamline the process is to have ready-to-use templates. Before each meeting, find a suitable template, open the menu (three dots), click "Duplicate" and customize the copied template to fit the meeting.
Step 4: Share, collaborate, follow up
You're ready to start taking notes!
A Nuclino item is more than a page of text – you can media, embed content from other tools (e.g. a draw.io diagram or a Figma design), give feedback using inline comments, plan and assign tasks, and much more. Internal links in Nuclino work across all of your team's workspaces, so if you are having a meeting that is related to a certain project or item in another workspace, simply add an internal link using @.
Every item is edited in real-time so you can continue collaborating and following up on the next steps even after the meeting is over.
---
👏 You're all set!
Have questions or looking for more tips? Email us at contact@nuclino.com!