Successfully planning, tracking, and completing a project can be a long and complicated process involving multiple teams. It tends to spread across multiple tools, forcing you to constantly switch between your inbox, chat, shared drive, and project management app.
Keeping everyone on the same page turns into an ongoing challenge that fills your day with endless email loops, unproductive meetings, and distracting notifications.
But it doesn't have to be this way. With Nuclino, you can plan, track, and document all your work in one place, staying organized and focused. Here's how you can have your project management system up and running in minutes.
Step 1: Create a workspace
Let's start by creating a separate workspace for your team's projects.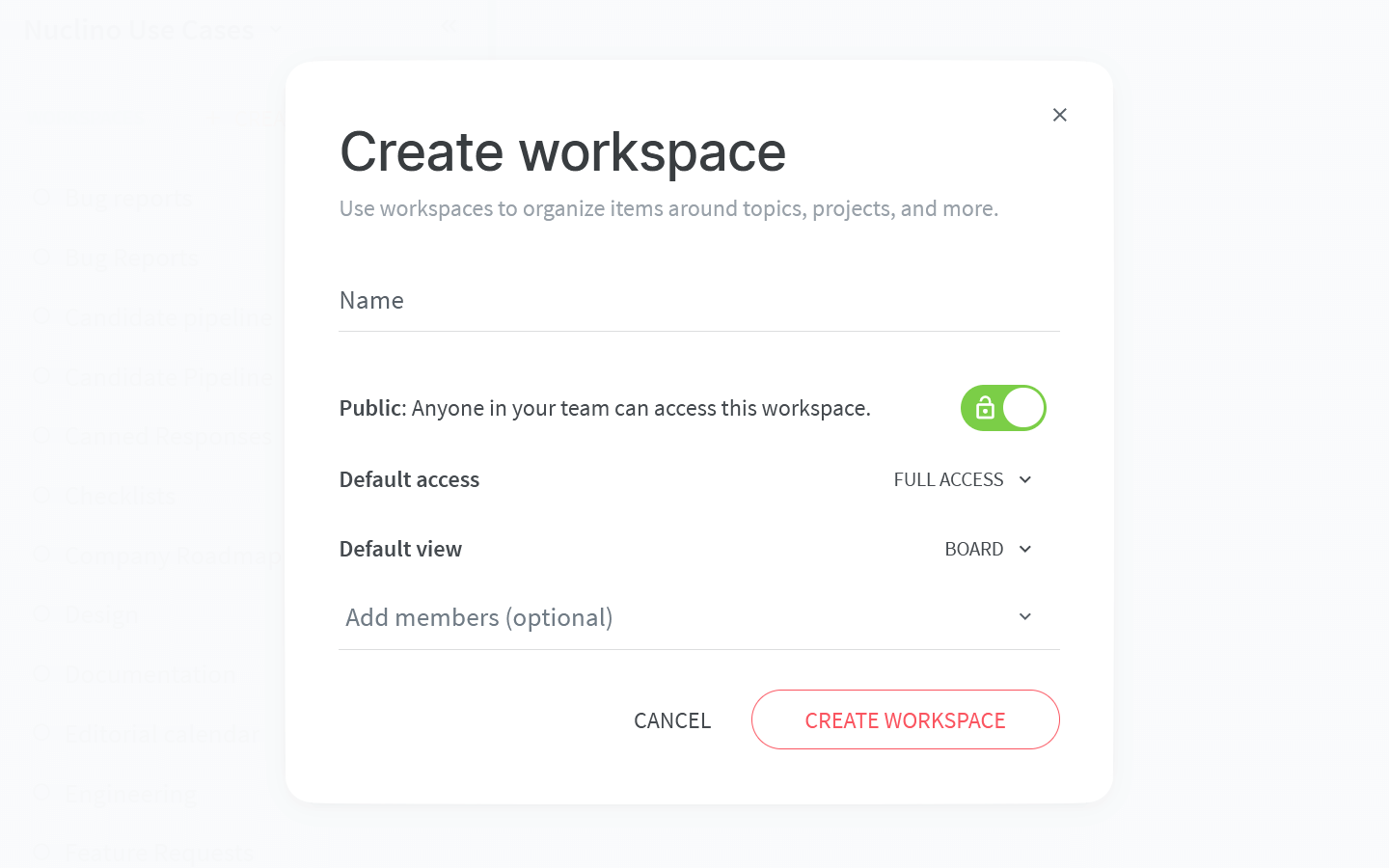 To set up your workspace, you will need to configure:
Privacy.

You can make your workspace public – visible and accessible to your whole team – or private, so that only you and invited members can see it.

Access rights.

Project management is all about collaboration – make your workspace full access and allow your workspace members to edit the content by default. If you want to give certain members comment-only or read-only rights, you can always do so in the workspace settings.
Step 2: Set up your workflow
Content in Nuclino is made up of items (board cards) that are grouped in clusters (board lists).
Get started by creating the clusters that match the different stages of your project management workflow, for example:
To do

In progress

Blocked

Completed
Once the project or task moves from one stage to the next, you can simply drag and drop it from one cluster to another.
You can also augment your workflow using fields. Fields allow you to track additional information about each project or task, such as its priority, assignee, due date, and more. They can be easily configured in the workspace settings.
Step 3: Create and assign tasks
Now you are ready to fill your board with campaigns and projects – use the + button next to any cluster to add a new item.
Every Nuclino item is a collaborative long-form document that can contain text, images, checklists, tables, and more, allowing you to consolidate all project-related information and assets in one place. Click the + button when you're in an empty line in the editor or use the slash command / to see the full list of content types you can add.
You can assign projects to your team members by configuring the "Team member" field in the workspace settings. The assigned member will get an instant in-app or email notification with the link to the item. They will also be able to filter through the projects assigned to them by simply typing + into the search bar and selecting the necessary filter.
You can also break down your project into sub-tasks by adding task lists to an item. Use the + button or the / command and choose "Task list" from the menu. Assign these tasks to your team members or groups by mentioning them. To show all items where someone is mentioned, simply mention them in the search bar.
Step 4: Collaborate with your team
Every Nuclino item can be edited by you and your team members in real time, with every change automatically saved in the version history.
You can also exchange feedback directly in Nuclino and preserve the context of every decision using inline and item comments. To quickly draw the attention of a team member, @-mention them, triggering an in-app or email notification on their end.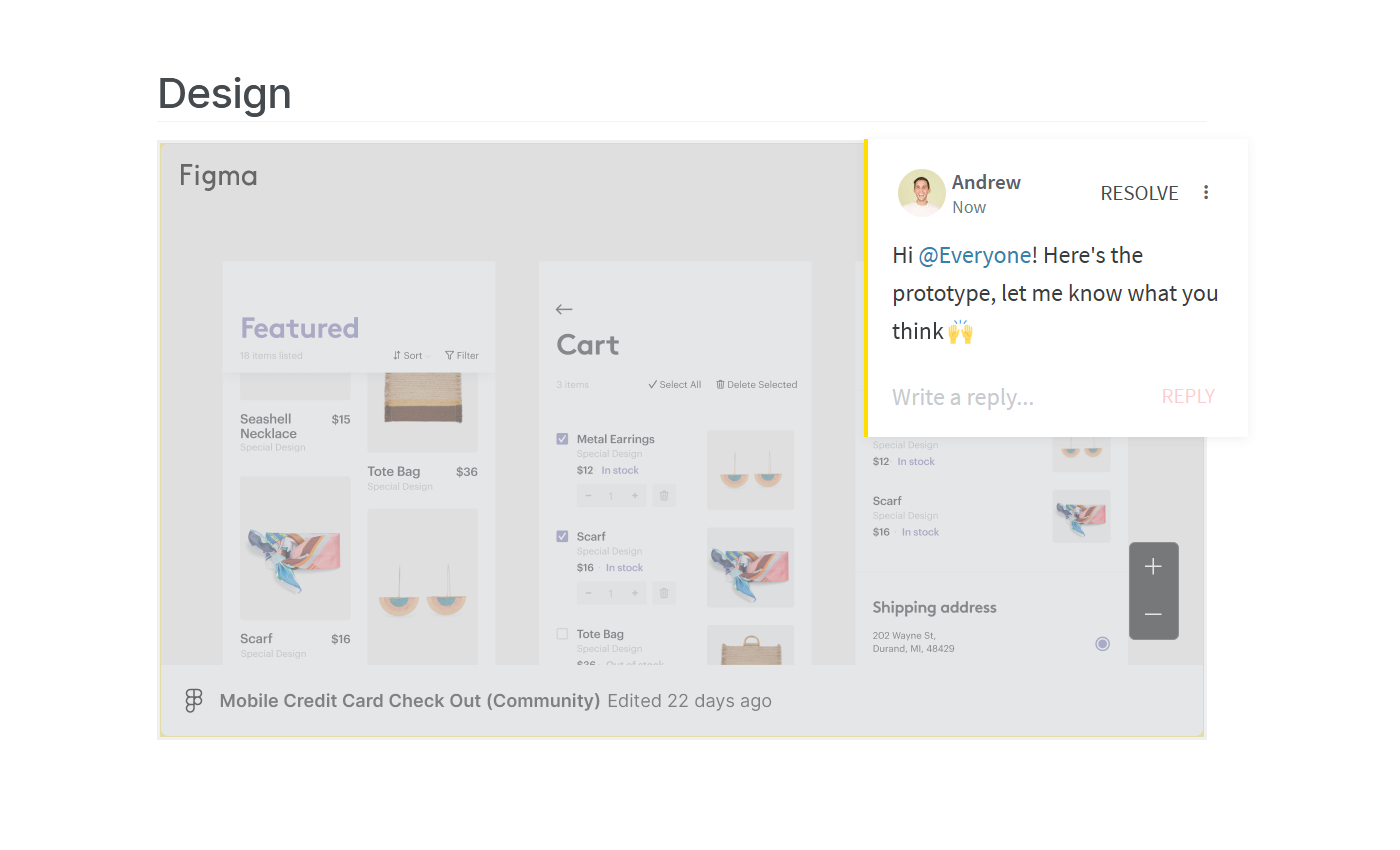 💡 Nuclino Tips:

Create groups to be able to mention and notify multiple team members at once.
---
👏 You're all set!
Have questions or looking for more tips? Email us at contact@nuclino.com!